Standing Seam- Snap Lock System
*Our panels and matching trim are made with McElroy metals and our roll-formers. They are made to speck on site, or made to order for pick up and delivery.
VicWest- North Ridge Slate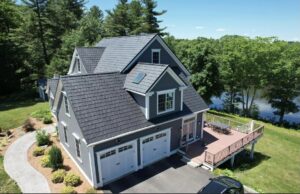 Fastening System: Hidden Fastener
Trim System: Color matched trim that creates a seamless finish.
Substrate: Galvalume
Available Gauge: 28 GA
Panel Width: 12″
Panel Length: 50″
Profile Depth: 9/16″
Read More about VicWest;